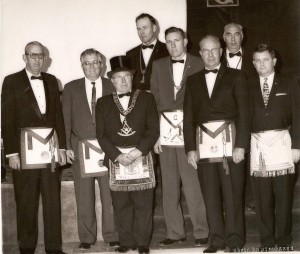 About Nellis Lodge
Our origin
Nellis Lodge #46 F&AM originally started at Nellis Air Force Base as the Square and Compass Club in April 1954. Brother General James E. Roberts then Commander at the Base was able to make a building available for the meetings. The purpose of the club was to provide a Masonic meeting space for the military personnel to use while away from their respective lodges. For the next few years it was talked about forming a Lodge but since most of the members were only temporarily stationed there it never held ground. In 1962 however it was decided to create a chartered Lodge and also keep the Square and Compass club. Our current member Brother Al Schouten was the Worshipful Master that presided over the first stated meeting on December 13th 1962. Nellis Lodge moved to its new home on Rancho and has been committed to serving our valley's youth through our Bikes for Books program and assisting with the Child I.D. program.
Our Officers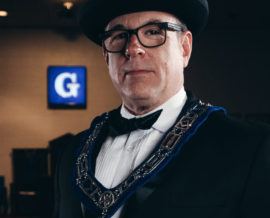 Worshipful Master
2004 Graduate University of Michigan Medical School,
Microbiology and Immunology Department.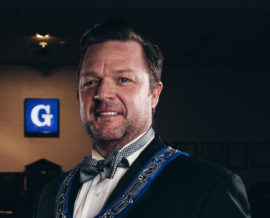 Junior Warden
2004 Graduate University of Michigan Medical School,
Microbiology and Immunology Department.
Testimonials
The years found me an admirer of the great work the Masonic Order has been doing in making this world a better place for all of us to live.  I have, for a long time, desired to be one of you and rejoice that now I can proudly boast of my membership in one of the world's greatest fraternal associations. I am grateful for those individuals who have in quiet ways motivated me in my work on behalf of unfortunate children. I am grateful for the high moment in my life when the doors of Freemasonry were opened to me. Since then I have had many pleasant times of fraternal fellowship and even opportunities for service in the work of many branches of Freemasonry.
Testimonials
The same answer is echoed by Brethren as they meet in Lodge rooms from one end of our Country to the other and around the world. Many of my best friends, associates, and fellow Christians are Freemasons and good churchmen as well. In my travels at home and abroad a goodly number of Freemasons notice my Masonic ring, which I always wear. With pride they say: "I, too, am a Freemason." To me, Freemasonry is one form of dedication to God and service to humanity. I too was a Freemason in my heart and so I will remain. I am proud of my involvement. I am proud to walk in fraternal fellowship with my Brethren.
Testimonials
Freemasonry embraces the highest moral laws and will bear the test of any system of ethics of philosophy ever promulgated for the uplift of man
Common Facts
Notable facts regarding Nellis Lodge #46 F&AM